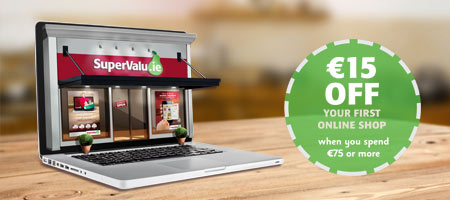 Why shop online with SuperValu?
Shop online securely using your phone or tablet - it's that easy!
Shop on the go anytime, anywhere with our FREE online shopping app
Check out all our Special Offers and track your bill as you shop to help you spend less
Get your groceries at a time that suits you with our Home Delivery or Click & Collect services
My Usuals List saves you time by showing you all of your previous in store and online purchases
First time Online shopper?
Get €15 off your first order when you spend €75 or more